Bespoke contemporary ceramics at the very heart of luxurious interior design.
Claire offers firstly her creations to interior designers.
Her original technique leads her to make unique artworks in harmony with aesthetic's line and history of each place.
Claire's sculptures inhabit public and private spaces : lobbies of international hotels as well as private residencies. Each piece is meant to build a strong conversation with the scene where it is displayed and echoes poetic elegance in it.
Claire Fréchet collaborates with galleries, art consulant and interior designers
She creates exceptional on-commission objects, challenging herself and celebrating nature, in the framework of her collections.
Price are on request.
Please contact the artist here

References :
Claire Fréchet is mainly represented by :
Scott Sudler
for BO Design Group in USA
Dominique Andreani
for ID Development in the Midle East
See his lookbook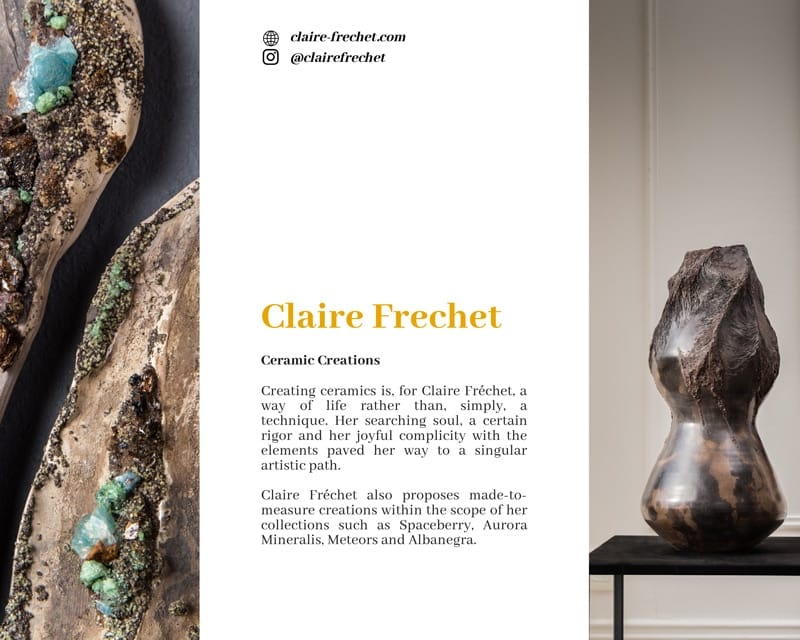 Claire collaborates with international designers such as :
Liaigre, Paris
Galerie Stéphane Olivier, Paris
Visionnaire Home Philosophy, Milano
Elena Caponi, Milano
Henge, Milano
Katherine Pooley, London
Louise Bradley, London
Scenario Zeitgemäßes Wohnen und Bauen, Hanau
Shop online :
Some of the creations are also available here